Index
Home
Mullan
Wallace
Osburn
Big Creek
Kellogg
Pinehurst
Cataldo
Kingston
Wardner
Silverton

History

In 1885 a man named Noah Kellogg, and his jackass (burrow) founded Kellogg, Idaho. Noah was a hopeful gold prospector who lived in Murray, Idaho. He was always trying to find someone who would give him a grub stake (A business deal where a wealthy man gives the prospector goods to go mining, so the wealthy man will get a percentage of the riches). To Noah's luck two men by the name of Mr. Peck and Mr. Cooper loaned him and jackass to carry tools and grub (food). Noah started out down the North Fork of the Coeur d'Alene River. Soon he came to the South Fork of the Coeur d'Alene River. He crossed it and headed south up present day Milo Creek, and finally stopped at the site of the Wardner city hall. One morning Noah awoke to find his jackass had wandered off. He proceeded to search for it, and upon finding it he realized that it was grazing on top of a large outcropping of galena (lead ore), and thus Kellogg was founded.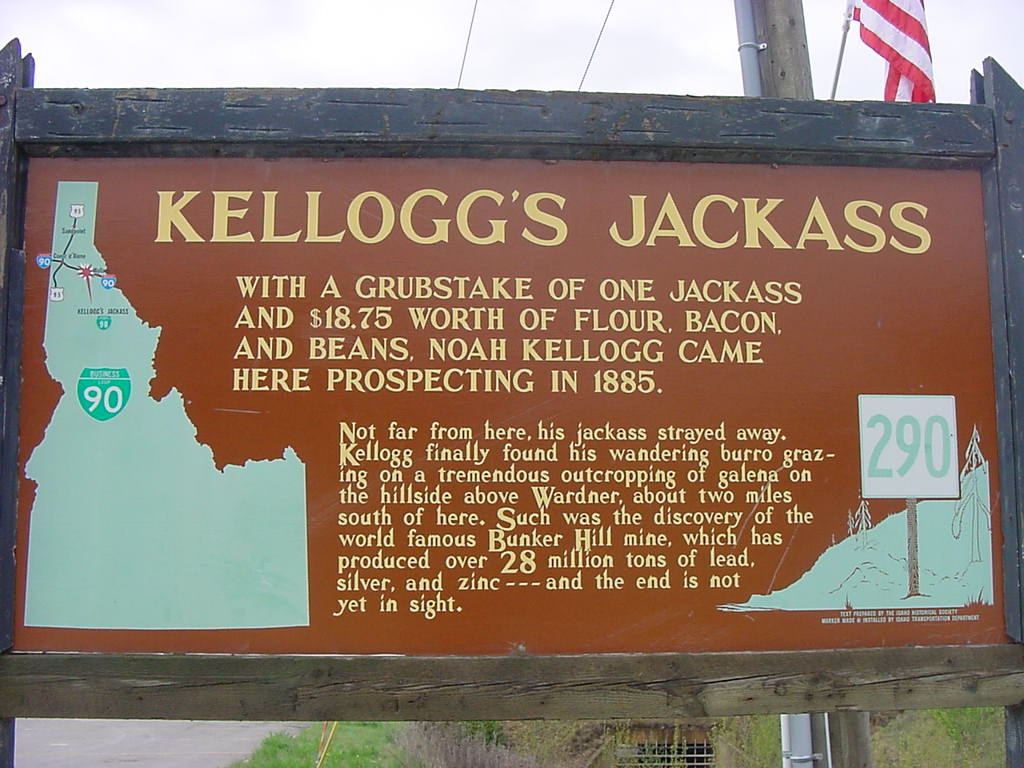 "Uncle Bunker"

Bunker Hill Mine was founded on September 10, 1885. Bunker Hill soon purchased and operated the first electric power plant in Wardner until 1956. Bunker Hill built a hospital in Wardner in 1894 and a second hospital in Kellogg in 1908, and the area's current hospital sits on ground donated by Uncle Bunker. The mine also constructed the Kellogg Y.M.C.A in 1910, and for 70 years paid from 25 to 50 percent of its operating costs. Also there might not be a Silver Mountain without the help of the Bunker Hill Mine. Things ran some what smoothly until 1899 when the union miners blew up the bunker mine which was later rebuilt in Kellogg in 1904. Before Bunker Hill closed down in 1981, it employed about 2,100 people, and the annual payroll was almost $50m million dollars.

After the mine...

When the mine shut down, Kellogg went into a large economic slump. Miners and their families who lived here and supported community groups and organizations, began to move to find another source of money. Thus Silver Mountain was created to bring money back to the valley and keep the town running. Soon as the mountain got the gondola and new lodge, business rocketed. Brought today's Worlds Largest Dodge seller in the USA, Dave Smith Motors. Now is the business that employs a percentage of the Silver Valley.

Silver Mountain

Silver Mountain ski and recreation area lies above the towns of Wardner and Kellogg. The gondola base is off I-90, the gondola ride is 19 minutes from top to bottom. Silver Mountain is characterized by deep powder, few people, and awesome views looking north over the Silver Valley. With 15,000 acres of terrain ranging from beginner to expert. For more info go to www.silvermt.com

credit to http://www.petersoneconomics.com/recent/silvermountain.html

Brought to you by Alex Ruff and Jacob Kagarise